Reducing the risk of greenwashing of investment products
With rising concern about climate change pushing people to act in a responsible and sustainable way, the demand for financial services products and services with green or ESG (Environmental, Social and Governance) credentials is increasing. As a result, so too is the risk of greenwashing.
In this article, Martin Mitchell outlines how the financial services regulators in the UK and the US are moving towards preventing, or at least reducing, the opportunities for greenwashing of investment products.
UK Financial Conduct Authority (FCA)
In late October, 2022 the Financial Conduct Authority published a consultation paper (CP20/22) titled "Sustainability Disclosure Requirements (SDR) and investment labels".
The FCA is proposing new rules to help consumers navigate the increasingly complex investment product landscape, protecting them from greenwashing, and rebuilding trust. Labels will be used to distinguish between different types of investment product based on their sustainability-related objectives and features. Together with associated disclosures, these labels should provide consumers with the information they need to make informed choices about which products meet their needs and preferences.
The proposals initially focus on funds and portfolio management based in the UK, but there is an intention to consider how best to apply similar approaches to both overseas funds and pension products.
The FCA will review feedback received and intends to set out final rules by the end of the first half of 2023.
US Securities and Exchange Commission (SEC)
On May 25, 2022, the US Securities and Exchange Commission (SEC) proposed amendments seeking to enhance and standardise disclosures related to environmental, social and governance factors for funds and advisers, and to expand the regulation of the naming of funds with an ESG focus. 
The proposed changes will:
Require specific disclosures on ESG strategies in fund prospectuses, annual reports, and adviser brochures
Introduce a standard table for ESG funds to disclose information allowing investors to compare ESG funds quickly
The SEC is also proposing to amend the so-called "names rule". The names rule generally requires that if a fund's name suggests a focus in a particular type of investment, or in investments in a particular industry, or geographic focus, the fund must adopt a policy to invest at least 80% of the value of its assets in the type of investment, or in investments in the industry, country or geographic region suggested by its name.
The proposed amendment would extend the names rule to apply to any fund name with terms suggesting the fund focuses on investments that have—or investments whose issuers have—particular characteristics.
ESG related fund names would be subject to the 80% requirement because their names suggest that they are invested in issuers or investments with ESG characteristics. Under the proposal, funds that consider ESG factors together with—but not more centrally than—other non-ESG factors in their investment decisions will not be permitted to use "ESG" or similar terminology in the fund name.
Reduce the risk of greenwashing
Whilst general awareness of ESG-related issues is growing, employees can be left wondering how ESG and the drive for sustainable finance impacts on both their firm, and their own role.
To support you in this area, we offer the following training and resources:
About the Author
Training financial services has been a passion for Martin for more than 25 years. He qualified as a chartered accountant with a forerunner of the global accountancy firm, Ernst & Young in London. After qualifying, Martin began training aspiring accountants before moving into training in the City of London.
Martin has since continued to design and deliver training courses for financial services professionals in London and internationally, as well as author study materials including innovative distance learning products and compelling eLearning modules.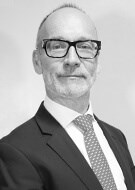 Martin Mitchell
Director of Training Services