The Role of the MLRO
Overview
The course provides a comprehensive overview of the role and responsibilities of a Money-Laundering Reporting Officer (MLRO) within a regulated firm. It is particularly suitable for newly appointed, or aspiring, MLROs as well as Deputy MLROs and others with responsibility for their firm's AML controls.

The course outlines the legislative framework, and explores the split of responsibilities between the firm's senior management and the MLRO. Participants will gain an understanding of how to develop a money-laundering risk assessment as well as the practicalities of managing the firm's suspicious activity reporting arrangements, with particular reference to the Defence Against Money Laundering (DAML) or Defence Against Terrorist Financing (DATF) regime and lessons to be learnt from recent enforcement cases.

In addition, the course will provide an update on the regulator's current priorities and areas of interest. Other key role requirements such as training and awareness responsibilities and the provision of management information, including the regulatory requirement for an annual report to senior management, will also be addressed.
All attendees receive a certificate of completion. Additionally, in line with FCA guidance, an optional end-of-course assessment is available for an additional £200 for those who are seeking approval from the FCA to perform the MLRO/Compliance Oversight function.
Who is this for?
This course is suitable for MLROs, Deputy and Assistant MLROs, Chief Executive Officers, Internal Auditors, Compliance Officers and those involved in reviewing or relying on the effectiveness of the MLRO.
Learning Outcomes
After attending this course, participants will be able to:
Explain the nature of the Money Laundering Reporting Officer (MLRO) roles and responsibilities
Comply with all statutory and regulatory obligations relating to the MLRO role
Deal with Suspicious Activity Reports (SARs) and DAML/DATF requests
Assess the adequacy and effectiveness of the firm's AML/CTF regime
Provide an adequate 'annual' report to Senior Management
Course Details
Session 1
Money Laundering
Counter Terrorist Financing
The Legal Framework
The Individual and the Position
Responsibilities
Record Keeping
JMLSG Guidance
The Money Laundering Regulations 2017
Risk-Based Approach
Session 2
Customer Risk Assessment & Customer Due Diligence
Suspicious Activity Reports (SARs)
The Law Enforcement Investigation
Use of National and International Findings
Training, Awareness and Competence
Ongoing Monitoring
The "Annual" MLRO Report
Sanctions
Bribery and Corruption
Delivery
All of CCL Academy's public courses are delivered virtually using Zoom.
Firms with more than 5 staff to train have the flexibility to deliver training in-person by one of our trainers at your premises, or virtually via Zoom, Teams or Webex.
Find out more about your Virtual or In-Person training experience below.
Virtual Delivery
Our virtual training courses are designed to be every bit as engaging as our in-person courses. To achieve this, our trainers use market-leading technology and a range of training techniques to ensure high levels of interaction with participants. Courses include the use of:
Virtual 'break-out' rooms: participants are divided into virtual rooms to facilitate small group discussion.
Polling: multiple-choice questions, answered anonymously, allow the trainer to assess knowledge and understanding across the group.
Case studies: true to life case studies and scenarios are used to highlight the practical application of theoretical knowledge.
Messaging: participants can submit questions and comments, either to the whole group or privately to the trainer.
Additional Benefits:
Recording: public course participants have the option to access a recording of the course for one month after the course. In-House clients also have the option to record their training for an additional fee.

On-going Q&A: public course participants can access an ongoing Q&A facility allowing them to ask questions relating to the course.
In-Person Delivery
Our in-person training is delivered face to face at your offices, and includes:
'In-the-moment' questions & discussions: questions through conversations allow the trainer to assess knowledge and understanding across the group.
Case studies: true to life case studies and scenarios are used to explore practical application of theoretical knowledge.
Q&A: participants can ask questions during training, either to the whole group or privately to the trainer.
"Bruce was excellent - very knowledgeable and experienced and this came across in everything he said. His style was easy for everyone to work with and made for a pleasant and engaged classroom."
Compliance Officer, Investment management firm
"Bruce's engaging style, subject knowledge and wealth of examples made the course thoroughly enjoyable. "
Finance and MLRO, Housing association
"The trainer was very knowledgeable and informative - because of the delivery I retained more than I would usually."
Compliance Monitoring Officer, Finance and insurance firm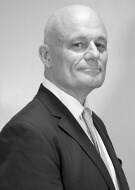 Bruce Viney
Director of Financial Crime Compliance Training