The MLRO Refresher
Overview
So often, Money-Laundering Reporting Officers (MLROs) are so busy ensuring that everyone else in their firm receives the AML training, that the need to keep up to date as the MLRO gets overlooked.
This course looks at the current areas of interest to AML regulators, enhanced with case histories and studies.
Specific themes addressed in the MLRO Refresher course include:
Challenges arising from the split of responsibilities between the firm's senior management (in particular the designated Senior Manager in regulated firms) and the MLRO
Issues arising from the firm's ML risk assessment and the ongoing maintenance of it
Practical updates from managing the firm's SAR arrangements
Training and awareness, contrasting retail and wholesale markets' practical needs
Management information, including the regulatory requirement for an annual report to senior management
Regulators' current areas of interest
This is intended to be an interactive course to which participants can bring their own current issues and challenges to add to the current themes identified above. Participation provides an opportunity to find pragmatic solutions to current challenges, born of the experience of others, thus leading to resolutions that can be considered to reflect current market practice.
Who is this for?
The course is aimed at MLROs, Deputies and Assistant MLROs.
It may well prove to be of benefit and interest to others in regulated firms, including Chief Executive Officers, Internal Auditors, Compliance Officers and those proactively involved in reviewing or relying on the effectiveness of the MLRO.
Learning Outcomes
After attending this course, participants will:
Be able to evidence a continuing level of competence
Appreciate the high-profile nature of the MLRO role and the approach of their firm's AML regulator to their supervisory responsibilities
Be aware of the importance of practical issues arising from applying relevant industry guidance and of any guidance carrying approved status
Be able to give practical assistance in creating the firm's ML risk assessment
Be able to give practical assistance in the development of risk-based CDD arrangements and other AML/CTF systems, procedures and controls
Recognise the wider issues and challenges of the firm's AML training regime
Benchmark against other firms' practical experience of matters arising from their own firm's day-to-day management of its AML/CTF regime, including its monitoring arrangements and with particular reference to enhanced CDD and monitoring obligation
Course Details
Statutory and regulatory origins of the Nominated Officer's/MLRO's responsibilities
The parallel responsibilities of the Nominated Officer/MLRO and senior management
Current expectations of the FCA and other regulators
Matters arising from using the Joint Money Laundering Steering Group (JMLSG) Guidance and other regulatory authorities
The risk-based approach - producing a risk-based AML assessment of a firm's business
Suspicion reporting obligations and the 'consent' regime
Uses and limitations of the annual report from the MLRO to senior management
The role of AML training in demonstrating competences of Senior Managers and Approved Persons to the regulator
Case histories, examples and discussion of participants' own issues to work towards pragmatic solutions that reflect good market practice
Delivery
All of CCL Academy's public courses are delivered virtually using Zoom.
Firms with more than 5 staff to train have the flexibility to deliver training in-person by one of our trainers at your premises, or virtually via Zoom, Teams or Webex.
Find out more about your Virtual or In-Person training experience below.
Virtual Delivery
Our virtual training courses are designed to be every bit as engaging as our in-person courses. To achieve this, our trainers use market-leading technology and a range of training techniques to ensure high levels of interaction with participants. Courses include the use of:
Virtual 'break-out' rooms: participants are divided into virtual rooms to facilitate small group discussion.
Polling: multiple-choice questions, answered anonymously, allow the trainer to assess knowledge and understanding across the group.
Case studies: true to life case studies and scenarios are used to highlight the practical application of theoretical knowledge.
Messaging: participants can submit questions and comments, either to the whole group or privately to the trainer.
Additional Benefits:
Recording: public course participants have the option to access a recording of the course for one month after the course. In-House clients also have the option to record their training for an additional fee.

On-going Q&A: public course participants can access an ongoing Q&A facility allowing them to ask questions relating to the course.
In-Person Delivery
Our in-person training is delivered face to face at your offices, and includes:
'In-the-moment' questions & discussions: questions through conversations allow the trainer to assess knowledge and understanding across the group.
Case studies: true to life case studies and scenarios are used to explore practical application of theoretical knowledge.
Q&A: participants can ask questions during training, either to the whole group or privately to the trainer.
"Hands-on with a good explanation that is easy to follow and great case studies."
AML Manager, Investment firm
"Directly relevant to my role. A detailed review of technical knowledge/interpretation, backed up by a series of relevant case study exercises."
Director - Risk, Compliance & Legal, Bank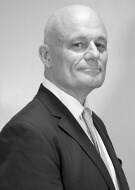 Bruce Viney
Director of Financial Crime Compliance Training