The New FCA Consumer Duty and What it Means For Your Firm's Training Plan
In July 2022, the FCA published its long-awaited final rules relating to the new Consumer Duty. The obligations being introduced as part of the new Duty are wide-ranging and firms within scope of the rules will need to devote significant time and resources to ensuring they comply within the deadlines set by the FCA.
Here are three important implications of the new Consumer Duty rules and how to overcome them when adapting your firm's compliance training plan.

The time to train your board is now
Whilst the FCA has extended the implementation period for the Consumer Duty (for most firms the deadline for meeting the rules is now July, rather than April, 2023), it's important to note that by the end of October 2022, every firm's board (or equivalent) should have agreed implementation plans to meet the Duty standards.
With October approaching fast, let me ask you, how many board meetings does your firm have scheduled before the October deadline? It's vital for your firm to start discussions now.
What about training? If your board has already been well-briefed on the Duty and your firm's plans for implementation, they may need to be brought up to speed on the final version of the rules. On the other hand, you may yet need to organise comprehensive training on the new Consumer Duty for the board, along with how to understand its implications for your firm – if that's the case, now is the time.

Don't forget your senior business leaders
The new Duty is wide-ranging, and for many firms, meeting the rules will require work across multiple business functions. Much of this process will need significant input from senior managers in business functions – it can't simply be delegated to compliance or other control functions.
In some cases, these senior managers will be board members and so will be familiar with the new Duty and its implications. However, it's important to recognise that, in many firms, managers below board-level will also have an important contribution to make. Providing tailored training to these managers will ensure they understand the significance of the new requirements, and of their involvement in the implementation process.

It's time to revisit your conduct training
It's good practice to communicate any regulatory change as significant as the introduction of the Consumer Duty to colleagues across your organisation. In this case, it's particularly important given the scale of the changes, and their impact on employees across both front office and operational areas of the business.
In particular, the introduction of the new Individual Conduct Rule 6 (which requires employees to 'act to deliver good outcomes for retail customers') is an opportunity to revisit the training previously delivered to conduct staff.
Is your firm confident that its existing training has been engaging and effective? Does it meet the FCA's expectations and, if so, can this be evidenced? If not, the introduction of the new rule is a great opportunity to consider how best to embed understanding of the Conduct Rules, including the new Rule 6, among colleagues right across the firm.
Whether you're looking for in-depth training for your Board and Senior Management, or introductory awareness courses for your front office, CCL Academy can help. Get in touch to discuss your training requirements in more detail.
Alternatively, click on the links below for recommended courses.
Recommended Courses
Senior Management & The Board
Compliance Team & Front/Back Office Staff
About the Author
Nigel specialises in training boards, senior executives and other staff on the impact of regulation and regulatory change.
He is a CFA Charterholder and Chartered Fellow of the CISI, with over 15 years' industry experience.
With a background in compliance in private banking and wealth management, Nigel has a particular interest in effective corporate governance and the management of compliance and regulatory risk. His interests also include issues relating to ESG and climate risk, conduct and culture (including non-financial misconduct), and all aspects of financial crime prevention, as well as the impact of fintech.
Recent assignments have included briefing multiple boards and executive teams on senior management responsibilities, delivering compliance and ethics training for senior managers and front-office staff and creating a user-friendly risk and compliance handbook for a major bank.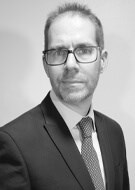 Nigel Sydenham
Director of Compliance Training