Takeaways from the Pandora Papers data leak
The Pandora Papers is the latest (and largest) offshore data leak to hit the headlines. Like the Panama Papers (2016) and the Paradise Papers (2017) it exposes the secret offshore affairs of wealthy and powerful individuals – including more than 130 billionaires, 35 current and former world leaders, and 330 public officials.
The scale of this leak is much larger than previous ones – it comprises almost 12 million files from 14 different offshore services firms in countries such as the British Virgin Islands, Panama, Belize, Cyprus, Singapore and Switzerland – so its impact is, arguably, much broader.
A great deal will be written about the leak over the coming weeks, including important debates about the legitimacy of the tax avoidance methods that are highlighted and, in some cases, potential money laundering allegations. 
But if we strip back the famous faces and eye-watering numbers for a moment, there is an important message in all of this about getting the basics of risk assessment, CDD/KYC, monitoring, and reporting right, especially with PEPs and other high-risk clients in mind.
And, as more and more organisations and individuals release statements trying to limit the damage, it is also a sobering reminder of reputational risk.
Financial Crime Risk Management Training
CCL Academy provides training courses on all aspects of compliance and financial crime risk management. Our eLearning and virtual training courses, which are developed by our in-house subject matter experts, provide practical training to help you manage the Governance, Risk and Compliance (GRC) challenges you face.
About the Author
Michael Sacks started his career as a lawyer, advising on UK and international regulation. In 2005, he set up a global compliance training provider which developed online and classroom training for major financial groups, regulators and multi-national companies. As one of the lead subject matter experts, he delivered compliance training on a wide range of regulatory topics, including financial crime, market conduct, information security and conduct risk.
Michael has worked with regulators and industry bodies, including the FSA (now FCA), the JMLSG and the BSR/UN Global Compact, to develop training and awareness initiatives in relation to major legal and regulatory events. He is also the author of 'Financial Services Regulation - A Practical Guide' which was endorsed by Sir Callum McCarthy, former Chairman of the FSA.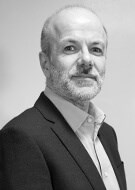 Michael Sacks
Director of Digital Learning Strategy