The SM&CR Case Study Series - Are we where we should be?
-----------------------------------------------------------
About our SM&CR case study series
As the implementation of the Senior Managers & Certification Regime (SM&CR) across the broader population of financial services firms approaches, it is vital that FCA-authorised firms begin taking steps towards meeting its requirements. We want to help wherever we can, so we will provide you with a case study that will chart the preparatory efforts and challenges a typical core firm will encounter in the lead up to SM&CR implementation. Our case study will follow fictitious firm "Smith & Cromer Limited" with key milestones and tips being released to you periodically throughout the year.
Our case study firm
Smith & Cromer Limited is a solo-regulated firm active in the wholesale markets. It has 25 staff in total with 20 approved persons. There are five executive directors and two non-executives. All but one of the executive directors also performs the customer function under the approved persons regime. The compliance oversight function and the MLRO function are both performed by the same person, who is not a director of the firm.
-----------------------------------------------------------
The scenario – Getting started
Sam Crabb is the compliance officer and money laundering reporting officer at Smith & Cromer Limited. Her CEO and board are not particularly pro-active when it comes to regulatory developments and look to Sam to guide them. Sam has been aware of the impending application of the Senior Manager and Certification Regime (SM&CR) for some time, but given her ongoing responsibilities she has had little opportunity to start considering how it will impact Smith & Cromer Limited. She has just seen CCL's 'SM&CR in a nutshell' short video and it was the call to action she needed. Where does she start? Sam knows it is around 9 months before the SM&CR really kicks in but is very keen to get things moving. Her first thought is to make the board aware. She adds the SM&CR to the agenda for the next board meeting and sends each member a link to CCL's 'SM&CR in a nutshell'. She also generates a broad project plan for the coming months to share with the board.
To view the project plan and the key takeaways, read Issue 1 now.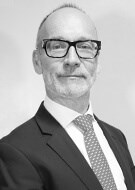 Martin Mitchell
Director of Training Services