FCA Update - Getting the necessary skills and training for Heads of Compliance and MLROs
The FCA recently published a statement about the competency and capability of Heads of Compliance and MLROs, providing advice on what is required for them to be effective in their roles.
The UK regulator advised that Heads of Compliance and MLROs should attend "training courses with sufficient length and depth to gain knowledge to carry out the role" It also emphasised the need to supplement any training provided in the past with up-to-date continuous professional development (CPD) courses.
Following the FCA's advice on successful training, you may be interested in our range of in-depth, relevant, and up-to-date training courses that are designed for Compliance Officers and MLROs within financial services firms. These courses also fit within the FCA's comments:
In accordance with the FCA's preference, our courses can be combined with an examination or an assessment, which can be either a viva or an extended case study, so that you can record and demonstrate your training.
You can read the full article on the FCA's website here.
Training you can trust
CCL Academy specialises in serving the financial services industry with compliance training.
All of our courses are written and delivered by our team of compliance professionals who have decades of experience in L&D to give you the confidence in knowing that your training is reliable, relevant to your industry, and delivered by highly experienced subject matter experts with a strong training background.
Click on the links above for course information or contact us to discuss your training requirements in more detail.
About the Author
Peter has over 30 years' experience in the field of regulation and compliance. A chartered accountant, Peter spent 6 years working with the UK's FSA (now the FCA) and has headed up regional and global compliance functions at Paribas, UBS Investment Bank and Bank of America.
In 2006, he set up his own consultancy firm, specialising in providing general regulatory, governance and compliance advice and training to banks, brokers, hedge fund managers, compliance officers and regulators. Peter was Chairman of the Securities Houses Compliance Officers Association and is Chair of the Steering Committee developing the British Standards Institute's work on the financial services compliance framework and function.
Peter combines his experience as a consultant and trainer with his extensive knowledge gained from the industry.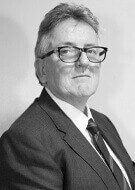 Peter Haines
Director of GRC Training