Could the drive to innovate compliance do more to weaken the function than improve it?
Peter Haines delves into the stresses that compliance officers face as regulations continue to change, and what this could mean for the future of the compliance function.
 
Listen to this podcast with Lucy McNulty of Following the Rules, and our Director of GRC Training, Peter Haines.

Delivered straight to your inbox
Receive updates, exclusive offers, event invitations and free resources straight to your inbox by signing up for our monthly newsletter.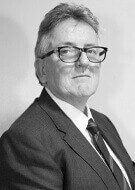 Peter Haines
Director of GRC Training