Concerning Conduct: Quarterly Cases - Q2 2023
A summary of recent cases concerning culture and conduct.
EY banned from German audit work for two years.
Germany's audit watchdog banned EY from taking on any new listed audit clients in Germany for two years over its work on collapsed payments group Wirecard. EY was also fined €500,000 and five individuals were fined between €23,000 and €300,000 over their roles in the scandal.
Dimon blames regulators for banking turmoil.
JPMorgan CEO Jamie Dimon's annual shareholder letter put the recent banking turmoil down to regulatory rules. He said that rules had encouraged banks to amass big portfolios of US Treasury bonds that dropped in value as the Fed increased interest rates. The impact spooked investors and caused the bank run at Silicon Valley Bank. Dimon also criticised the US stress tests for not incorporating interest rates at higher levels.  
Credit Suisse chair apologises at fractious final AGM. 
Credit Suisse's chair Axel Lehmann apologised that he and his colleagues were "no longer able to stem the loss of trust that had accumulated over the years" at the bank's final AGM as an independent business before merging with UBS. One shareholder suggested the Credit Suisse board would have been crucified in medieval times.
Court filing claims JPMorgan staff joked about Epstein.
A court filing from lawyers acting for the US Virgin Islands claimed JPMorgan staff joked about disgraced sex trafficker Jeffrey Epstein's "interest in young girls".
Nuns call on Citigroup to repent and change.
Just ahead of Citigroup's annual shareholder meeting, the Sisters of St Joseph of Peace, an order of nuns that own a small stake in the banking giant filed a resolution. The resolution referred to the fact that Citi had provided over $5bn to Enbridge (a pipeline company) that had re-routed pipelines through land that is important to indigenous communities, putting them at risk of oil spills.  
CBI battling for its reputation after sexual misconduct claims.
Employers' organisation the Confederation of British Industry (CBI) saw its director-general sacked over allegations of sexual misconduct and more than a dozen women came forward alleging workplace misconduct. The allegations are being investigated by law firm Fox Williams on behalf of the CBI, and three further members of staff have been suspended pending further investigation.
JPMorgan urges top staff to be at the office 5 days a week.
JPMorgan Chase is pressing its managing directors to be in the office 5 days per week. "Our leaders play a critical role in reinforcing our culture and running our businesses" said a staff memo, "they have to be visible… meet with clients… teach and advise… be accessible for immediate feedback and impromptu meetings".
WHO sacks senior official over sexual misconduct accusations.
The World Health Organization (WHO) dismissed a senior official accused of three instances of sexual misconduct over five years. The WHO is working to improve its organisational culture and make it easier to report misconduct.
BAT agrees $635m US penalty over sanctions violations.
British American Tobacco (BAT) agreed with the US Department of Justice to pay $635m in penalties for sanction violations in North Korea. A BAT subsidiary used an "elaborate scheme" to sell products to North Korea and "sidestep sanctions". The penalty saw the existing CEO fall on his sword slightly afterwards.  
Goldman's dual role in Silicon Valley Bank collapse being investigated.
The dual role of Goldman Sachs leading up to the collapse of Silicon Valley Bank (SVB) is being investigated by US authorities. Goldman acted as adviser on a failed equity issue aiming to raise much needed capital, and at the same time purchased $21.45bn worth of securities from SVB that crystallised a $1.8bn loss.
Weaker teamwork skills identified post-pandemic.
Deloitte and PwC both noticed that recent recruits whose education had been disrupted by the Covid pandemic have weaker teamworking skills than previous cohorts. Extra coaching is being provided to address the concerns.
UK National Fraud Strategy published.
The UK government published its National Fraud Strategy – an ambitious plan to deal with fraudulent scams. The government plans to work with the telecoms regulator Ofcom to ban cold calls on all financial products. It also plans to ensure that victims of push payment scams, where the scammer tricks someone into sending them a payment, are reimbursed.  
PwC Australia boss resigns over tax leaks and nine partners suspended.
The chief executive of PwC in Australia resigned after a tax scandal that saw PwC's head of international tax in Australia banned. The leaks involved circulating information with other PwC staff from confidential meetings with the Australian Treasury over new anti-avoidance plans. The information was then used to advise clients and win new business. The chief executive admitted he received some of the emails regarding the financial success of the tax advice in 2015 and 2016. PwC then suspended nine partners as it waits for the findings of an internal review into the scandal. The partners were told to "go on leave effective immediately" pending the outcome.
Goldman settles over gender bias for $215m.
Goldman Sachs settled a class action lawsuit over discrimination against female employees for $215m. Around two-thousand eight-hundred former female employees participated, and the average pay out will be around $50,000 each. Goldman also agreed to hire an independent expert to look at its performance analysis processes and the equity of pay.  
"Right to switch off" expected under a Labour government.
The UK Labour party plans to implement similar requirements to those already in place in France regarding the "right to switch off" – disconnecting phones and laptops outside of working hours. Labour is currently comfortably ahead of the Conservatives in opinion polls and its shadow secretary of state for the future of work said, "constant emails and calls outside of work should not be the norm and is harming work-life balance for many".
Autonomy chief extradited to US over accounts manipulation.
The founder of UK software company Autonomy, Mike Lynch, was extradited to the US to face charges that include manipulating Autonomy's accounts in the lead up to an $11bn takeover by HP in 2011. Autonomy's former CFO is already serving five years in prison in the US. Lynch subsequently posted $50m worth of shares in UK cyber group Darktrace as bail.
Significant lack of codes of ethics across the FTSE 350.
The Institute of Business Ethics published a report on the extent to which the biggest three-hundred and fifty listed companies in London publish a code of ethics. It found that across the biggest one hundred (the FTSE 100), ninety per cent do so, whilst across the next two-hundred and fifty only forty per cent have a publicly available code of ethics.
High Court judges invested in tax avoidance schemes.
It was revealed that three judges in the UK's High Court had invested in tax avoidance schemes that were challenged by HMRC. Judges in the UK are not required to make formal disclosures about their financial affairs prior to accepting the role.
BlackRock requires staff in the office four days per week.
From 11th Sept 2023, asset manager BlackRock will require staff to be in the office for at least four days per week. An internal memo encouraged staff to "transition into this model…over the next few months".
Prudential CFO resigns over "recruitment situation".
The Hong Kong based Chief Financial Officer at Prudential resigned over his conduct "relating to a recent recruitment situation" according to the company. No details were given, but the company said the CFO "fell short" of the "high standards" required.
Draining a reservoir to find a phone.
An Indian government official dropped his mobile phone into a reservoir. Claiming it held sensitive government data, he required the reservoir to be drained of two metres litres of water, taking three days, to retrieve the device. The phone was found, waterlogged and unusable.
Tens of thousands hit by data breach.
A data breach that compromised software from Zellis, a UK payroll provider, has impacted tens of thousands including employees of British Airways, Boots and the BBC. A Russian speaking criminal gang are thought to have hacked into Zellis software.
UBS draws "red lines" for Credit Suisse staff to prevent "cultural contamination".
UBS imposed tight restrictions on Credit Suisse staff as the merger between the two Swiss banks was completed. The restrictions consist of almost two dozen "red lines" including prohibiting new clients from countries like Libya, Russia, Sudan, and Venezuela and not launching any new products without UBS management approval. UBS explained it as addressing worries over "cultural contamination".
EU tightens sustainable criteria for aviation fuels.
In the face of criticism, the EU has tightened the criteria for aviation fuel to be considered sustainable. The proportion of the fuel derived from crops and organic waste will need to be fifteen per cent by 2030, up by per cent from the previous criteria.
Swiss call for review of banking regs.
The Swiss National Bank called for a review of banking regulations. It warned that, in light of the collapse of Credit Suisse, the existing global rules on capital and liquidity do not safeguard systematically important lenders from collapse.
HSBC set to quit Canary Wharf.
HSBC announced that it will relocate and downsize its global headquarters from Canary Wharf to central London, probably the City. HSBC has been in Canary Wharf for more than twenty years with the move reflecting changes in working patterns since the Covid pandemic.
In a blow to UK infrastructure investors, Thames Water, the UK's largest water company, is facing the possibility of collapse and nationalisation. The company has a legacy of under-investment and £14bn of debt, more than half of which is linked to inflation rates.
Pension investors question UK listing reform plans.
Ten of the largest pension schemes sent an open letter to the UK's Financial Conduct Authority (FCA) warning that its plans to encourage more companies to list in London would damage "fundamental investor protections" and "diminish" the UK's reputation.
Simultaneous police raids on German property group.
Adler Real Estate faced simultaneous police raids in Germany, Austria, the Netherlands, Monaco, Portugal, Luxembourg and the UK in an escalating false accounting investigation. Germany's BaFin found that Adler had inflated its balance sheet by €3.9bn in 2019.

Delivered straight to your inbox
Receive updates, exclusive offers, event invitations and free resources straight to your inbox by signing up for our monthly newsletter.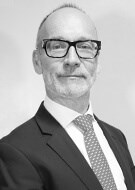 Martin Mitchell
Director of Training Services