Concerning Conduct: Quarterly Cases - Q2 2022
A summary of recent cases concerning culture and conduct.
UK-listed port operator at risk of sanctions breach for harbouring Abramovich-linked yacht.
Global Ports Holdings, a London-listed port operator owns a dock in Bodrum, Turkey where Solaris – a yacht thought to be owned by Roman Abramovich – was understood to be located. The FT reported that, with Abramovich under sanctions, the port operator should probably be approaching the UK's Office of Financial Sanctions Implementation to come clean about the potential sanctions breach. A day or so later, the yacht was understood to have moved on.

City minister shifts to positive tone on crypto.
John Glen, the UK City minister, made a speech that marked a shift towards a positive tone on the crypto industry in the UK. Laying out plans for the UK to become a "global hub", the UK government is proposing new stablecoin regulations and the minister said the UK was "open for business and open for crypto businesses". The speech also outlined how the Royal Mint is planning to issue a 'non-fungible token' and the possibility of government debt being issued using distributed ledger technology.
Sunak's wife agrees to pay UK tax on all income.
After it was revealed that the wife of Rishi Sunak, the UK's chancellor of the exchequer, was a non-domiciled UK individual, she decided to pay UK tax on her worldwide income. So-called "non-doms" are only required to pay UK tax on their UK income, but Akshata Murty, the chancellor's wife has decided to pay UK tax on her worldwide income out of a "British sense of fairness". Murty is a very wealthy individual owning a stake worth more than £500m in Indian tech company Infosys that was founded by her father.
Jersey freezes $7bn of assets linked to Abramovich.
The British overseas territory of Jersey froze more than $7bn in assets linked to Russian oligarch Roman Abramovich. The assets were either located in Jersey or owned by entities incorporated on the island.
Twitter introduces poison pill to thwart Elon Musk's hostile bid.
Twitter Inc put a poison pill provision in place that will enable shareholders to buy further shares at a substantial discount if a predator buys fifteen per cent or more in a transaction that is not approved by Twitter's board. The poison pill came after Elon Musk's unsolicited bid to take Twitter private for $43bn in cash. However, the board of Twitter was forced to the negotiating table when Musk secured financing for his deal and accepted the bid.
SEC rule 105b-1 being questioned.
The US Securities and Exchange Commission (SEC) has a rule, 105b-1, that enables executives at listed companies to pre-set a schedule of sales of stock with the regulator to enable them to sell without falling foul of insider dealing rules. However, the rule does not require any particular length of time between lodging the schedule and making the first sale. A plan could be set up in the morning to enable a sale in the afternoon, which opens it up to potential abuse. The New York City Comptroller is pushing for a "cooling off" period of at least one-hundred and twenty days between setting up a 105b-1 plan and being able to make trades. This is after a number of instances where executives set up 105b-1 schedules and made sales the following day – for example the former CEO of Abbot Laboratories set up a plan in March 2019 and sold $47m of stock the next day.
Ex-Apollo boss gave $2m to Russian model for British visa.
Leon Black, the billionaire financier and former CEO at private equity firm Apollo, agreed to transfer millions of dollars to a former Russian model with whom he had an affair. Mr Black's lawyers argue that this was in the face of extortion demands that she would "go public". The agreement included an attempt to enable her to obtain legal status in the UK and move away from New York City.
BVI premier arrested in US drugs sting.
The premier of the British Virgin Islands (BVI), Andrew Fahie, was arrested by undercover agents in Miami, USA. The arrest also included the BVI's port authority director. The pair were charged with drug trafficking and money laundering. It appears that the sting involved luring the two to Miami's airport with the promise of $700k in cash as payment for help in facilitating drug shipments. The BVI is a British overseas territory governed under a dual system that involves a locally elected administration (including Mr Fahie) dealing with everything except defence, policing, and security. The latter is handled by a British-appointed governor. A UK government inquiry recommended imposing direct rule by the governor to tackle failures in governance.
EY facing $2.5bn lawsuit over NMC audit negligence.
Professional services firm EY is facing legal claims of negligence over its audit of collapsed FTSE 100 hospital group NMC Health. Administrators filed a claim in London seeking damages of at least $2.5bn for negligently signing off the accounts between 2012 and 2018.
Increasing citing of "banter" at UK Employment Tribunal hearings.
Research by employment law firm GQ Littler found that the term "banter" is increasingly being used in tribunals as a justification for allegedly discriminatory remarks or harassment. The debate is whether it is light-hearted teasing or bullying and harassment. It appears that a key aspect is whether or not the recipient was offended and engaged in similar behaviour. Two instances were quoted that overstepped the mark – a seventy-one-year-old plumber, David Robson, referred to by colleagues as "Half-Dead Dave" and a female banker referred to as one of the "birds" by her line manager.
Sexist comments at Aviva AGM directed at female CEO.
Outdated and inappropriate comments were directed at Aviva's chief executive Amanda Blanc at the FTSE 100 insurer's AGM. The comments included she was "not the right man for the job" and that she should be "wearing trousers".
KPMG ditches German real estate firm as a client.
Shortly after the chair of Adler, the German real estate firm, told investors that "all steps" would be taken to resolve questions related to the 2021 audit with KPMG, the professional services firm declared itself unavailable as auditors. KPMG had refused to sign off Adler's 2021 accounts and its forensic division had been denied access to eight-hundred thousand internal emails in an investigation into fraud.
Sexual misconduct at NYC distressed debt specialist hedge fund.
The chief operating officer at New York hedge fund GoldenTree Asset Management was fired at the beginning of 2020 after an internal investigation revealed misconduct including the misuse of an expense account, lying to management about an affair with a more junior colleague and showing an obscene selfie to another employee. Legal proceeding over back pay also revealed that the former COO sometimes conducted meetings with his trousers down to his ankles that he explained by needing to "ice his knees".
Global head of responsible investing suggests financial risks of climate change are overstated.
Stuart Kirk, global head of responsible investing at HSBC Asset Management, accused central bankers and policymakers of overstating the financial risks of climate change. He said "Who cares if Miami is six metres underwater in a hundred years? Amsterdam has been six metres underwater for ages and that's a really nice place. We will cope with it". HSBC Asset Management CEO said the remarks "do not reflect the view of HSBC Asset Management" and Mr Kirk was subsequently suspended.
Glencore set to pay around $1.5bn in bribery penalties.
Commodity trader Glencore is set to plead guilty to multiple counts of bribery. The UK Serious Fraud Office charged Glencore with seven cases of bribery and corruption in Cameroon, Equatorial New Guinea, Ivory Coast, Nigeria and South Sudan. It appears Glencore agents and employees paid over $25m for preferential access to oil, with the company's approval. Glencore faces penalties of around $1.5bn, including $1bn to the US authorities, $40m to Brazilian prosecutors and a fine to the UK Serious Fraud Office that is yet to be finalised.
JPMorgan Chase gathers race data to help the black community.
JPMorgan Chase has started to collect data on race and ethnicity in a departure from the norm in US banking. The decision is a reaction to a promise to do more, after the police killing of George Floyd in 2020, to address the racial wealth gap.
Musk demands staff return to the office.
Elon Musk demanded that staff at Tesla and SpaceX give up the comforts of working from home and return to the office. "Anyone who thinks coming to the office is an antiquated concept should pretend to work somewhere else" tweeted Mr Musk.
Deutsche quietly relocates IT staff from Russia to Germany.
Deutsche Bank is quietly relocating IT staff from Russia to Germany after the invasion of Ukraine and the imposition of sanctions. Deutsche employed fifteen hundred in technology centres in Moscow and St Petersburg prior to the invasion and offered all staff the choice of moving their jobs to Germany. About half have accepted and most have already moved.
Tesco rebuked for "greenwashing" in ads.
The Advertising Standards Authority rebuked Tesco for its advertisements for its Plant Chef burgers. In the advertisement it featured a woman "doing her bit for the planet", but Tesco did not hold the evidence in relation to the full life cycle of the Plant Chef range to back the claim.
Charles Schwab agrees $187m settlement over robo-adviser "egregious" over allocations to cash.
Investment services company Charles Schwab agreed a $187m settlement with the US SEC for robo-advice that put excessive amounts of clients' money into cash and failed to fully pass on the interest earned.

Singapore will be "hard and brutal" on crypto bad behaviour.
The chief fintech officer at the Monetary Authority of Singapore stated that it will be "brutal and unrelentingly hard" on any bad behaviour in the crypto industry. The remarks were sobering for crypto businesses which have set up in Singapore – the city state has courted the sector for some years.
Citadel quits Chicago and heads for Miami.
Billionaire hedge fund manager Ken Griffin decided to move his firm Citadel to Miami from Chicago. He has previously discussed the difficulties in recruiting workers in Chicago due to rising crime rates. Griffin described Miami as a "growing metropolis that embodies the American dream". Griffin's market making firm, Citadel Securities, will also relocate.
Auditors told to show "greater scepticism".
The UK's audit watchdog, the Financial Reporting Council, published "professional judgement guidance" for accountants to improve their approach to auditing. The FRC is encouraging a more appropriate "mindset" that includes "greater scepticism".

Delivered straight to your inbox
Receive updates, exclusive offers, event invitations and free resources straight to your inbox by signing up for our monthly newsletter.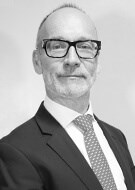 Martin Mitchell
Director of Training Services