Concerning Conduct: Quarterly Cases - Q2 2021
A summary of recent cases concerning culture and conduct.
Volkswagen's April Fool's joke sees ADRs up sixteen per cent.
Volkswagen was forced to apologise after its April Fool's joke that its US arm was to be re-branded "Voltswagen" led to its US-listed ADRs rising sixteen per cent.
Firms try to address burnout with bonuses and luxury gifts for staff.
Firms including lawyers and banks are attempting to head off a staff retention crisis amongst junior staff suffering burnout by handing out luxuries and generous bonuses. Elite US law firms have announced that one-off payments between $12,000 and $64,000 will be paid in tranches to keep workers in post. Investment bank Jefferies has offered staff a choice of perks including a Peloton bike and Apple products.

Fink addresses BlackRock behavioural failings.
CEO of asset management giant BlackRock says the firm aims to reset "behavioural expectations" in response to a series of disclosures about diversity and inclusiveness failings. Larry Fink said, "a high-performance culture also requires diversity, empathy, equity, respect and inclusion".
Procurement civil servant held second role with Greensill Capital.
It was revealed that a senior UK Civil Servant that had held the role of Chief Procurement Officer had worked at failed supply chain finance company Greensill Capital whilst still in Whitehall. Bill Crothers joined Greensill as a part-time adviser two months before he left the civil service.

UK Takeover Panel addresses male domination.
The UK's Takeover Code has been updated to replace the multiple references to "chairman" with "chair", and "his", "he" and "him" to variations of "person". The changes take effect on 5th July 2021.
JPMorgan scores own goal by backing ESL.
JPMorgan suffered the embarrassment and reputational damage of backing the European Super League (ESL) with $6bn of debt funding. After the announcement of the new league involving a selected number of Europe's biggest football teams, the founding clubs faced universal backlash from fans and the media that saw nine of the clubs withdrawing their involvement within days. JPMorgan subsequently owned up to its "misjudgement" stating that it will "learn from this".
Barclays pulls out of underwriting the debt for Alabama prisons.
Barclays pulled out of underwriting an $840m debt deal for CoreCivic to fund the building of two prisons in Alabama. It appears that the deal was not deemed to be acceptable on ESG grounds.
Multi-billion losses spotlight Credit Suisse's risk management failings.
Credit Suisse's recent losses, particularly the $3bn loss from its involvement with collapsed supply chain finance firm Greensill and the $5.4bn loss from exposure to family office Archegos, have highlighted risk management errors. Credit Suisse appointed Lara Warner as Chief Risk and Compliance Officer in 2015 despite her having no prior experience in the role. She led the function for five years and pushed risk and compliance to be "more commercial" and "aligned" with the front office traders and dealmakers. Lara Warner has since been removed from the role and the head of the Credit Suisse risk committee, Andreas Gottschling, has stepped down.
BlackRock double standards over palm oil.
Asset management giant BlackRock was accused of inconsistency over its approach to investing in companies involved in palm oil. Extolling its ESG credentials, BlackRock is pushing Procter and Gamble to clean up its supply chain in relation to palm oil. At the same time, BlackRock holds a direct stake in the Indonesian conglomerate Astra International that supplies the oil. Astra is accused of destroying rainforest to produce palm oil.
Cameron deluged Whitehall on behalf of Greensill.
Former British Prime Minister David Cameron was revealed to have lobbied fifty-six times to change the rules around Covid 19 debt support schemes to benefit his employer Greensill Capital, including texts to Treasury officials and chancellor Rishi Sunak. Mr Cameron said he knew nothing of the difficulties at Greensill and his lobbying was for the benefit of the British economy.
Grant Thornton facing accusations of conflicts over Greensill.
Professional services firm Grant Thornton, the administrator for collapsed supply-chain finance group Greensill Capital, is facing accusations of conflicts. Grant Thornton had previously examined the relationship between asset manager GAM's relationship with Greensill, and also worked with Greensill's largest customer GFG Alliance.
Proposals for powers to block UK listings over security risks.
UK Chancellor Rishi Sunak is planning to launch a consultation on powers to block UK listings on national security grounds. The proposed powers will enable the UK government to block listings that would give a foreign state access to state or commercial secrets and companies who could harm UK interests.
Oil companies hit by court and investor pressures.
Shell was told by a Netherlands court that it must accelerate its planned move away from fossil fuels and US giant Exxon faced an investor revolt that saw two new directors join the board with similar aims – to more rapidly move way from fossil fuels and into alternative, greener energy sources.
Regulatory filing shows the reward for failure at AT&T.
US telecoms giant AT&T paid its executives $9m for completing its purchase of Time Warner for $85bn in 2018. The acquisition has delivered negligible returns and is now being unpicked in a spin-off that will combine Warner Media (the renamed Time Warner) with rival Discovery.
Former Apollo Global Management Chief accused of rape.
Leon Black, the former Chief Executive of Apollo Global Management, is facing a lawsuit alleging he raped and harassed a young Russian model. Subsequently, the lawsuit alleges, he manipulated her with promises of cash and sham job interviews at Goldman Sachs. Mr Black claims he had a "consensual affair" and the woman later extorted him.
Leak of private tax records of US billionaires.
A leak from the US Internal Revenue Service revealed that the twenty-one richest Americans used legal tax avoidance techniques to enable them to pay just $13.6bn in Federal income taxes in the five years to 2018. Their collective wealth is estimated to have grown by $401bn in the same period.
EU bars ten banks from bond sales due to previous digressions.
The European Union excluded ten banks, including many big hitters, from a €20bn bond sale for its new €800bn recovery fund because of involvement in previous scandals such as bond-trading cartels and manipulation of currency markets. The ten were JPMorgan, Citigroup, Bank of America, Barclays, Natixis, Nomura, NatWest, Unicredit, Deutsche Bank and Credit Agricole. Within a week, eight of the banks were cleared for future transactions after promising "integrity" and evidencing "remedial measures".
Greensill's Covid loans funnelled to Gupta companies.
The FT reported that every taxpayer-backed loan provided by Greensill Capital went to companies linked to metals magnate Sanjeev Gupta. Greensill accessed the UK government's Coronavirus Large Business Interruption Loan scheme (CLBILS) and was authorised to provide £50m to a single company. It appears to have extended £400m to eight Gupta-linked companies, on the basis that they were not part of a consolidated legal entity.
Contrasting approaches to working from home post-pandemic.
Banks in the US appear to be much less flexible on post-pandemic working practices than their European equivalents. JPMorgan Chase, Goldman Sachs and Morgan Stanley have all ordered their staff back to the office – with Morgan Stanley's CEO James Gorman saying, "if you can go to a restaurant in NYC, you can come into the office". European banks appear to be adopting a more flexible approach with UBS planning to allow up to two-thirds of its staff to mix home working and the office on a permanent basis. Similar approaches have been adopted by HSBC and Standard Chartered.
PR boss resigns after allegations of drunken misconduct.
The former head of communications firm Teneo, Declan Kelly, resigned following revelations that he had inappropriately touched a number of women without their consent after having had too much to drink at a public event in California.

Delivered straight to your inbox
Receive updates, exclusive offers, event invitations and free resources straight to your inbox by signing up for our monthly newsletter.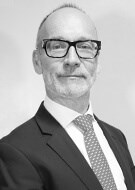 Martin Mitchell
Director of Training Services