Compliance Updater - February 2023
Regulatory and compliance news in brief
UK government consultation issued on crypto regulation.
The UK government issued a consultation on its plans to regulate the crypto sector. The overall aim is to bring crypto into the existing regime for financial assets. Building on the current registration scheme for AML/CTF purposes, the government plans to introduce legislation to ensure promotions are clear, fair, and not misleading and then bring fiat-backed stablecoins within the regulatory perimeter. The following phase, subject to the consultation, will bring other types of crypto assets within the perimeter too.
Perella Weinberg banker suspected of insider trading commits suicide.
A London-based banker at Perella Weinberg suspended over links to a German investigation into insider trading took his own life. It appears that the banker regularly shared sensitive merger and acquisition information with four German citizens between 2017 and 2021 that could have generated tens of millions of euros in profits. The banker died by suicide shortly after the investigation was announced.
Deutsche Bank's internal probe finds staff acted in "bad faith".
Deutsche Bank's internal report on sales of complex foreign exchange derivatives to small and medium-sized Spanish companies found its staff acted in "bad faith". The misconduct involved a London desk of Deutsche's investment bank and international private bankers in Spain and ran for several years until 2019. However, it appears that regulators including the ECB and Germany's BaFin are less than happy with the internal investigation due to methodological shortcomings and the time it has taken to punish those concerned.
FCA set to be given powers over buy now, pay later loans.
The UK Treasury is proposing that the UK's Financial Conduct Authority (FCA) is given powers to penalise companies that fail to conduct adequate credit checks in the interest-free buy now, pay later sector. Rapid expansion in the sector has led to worries that consumers are taking on unaffordable levels of debt without adequately considering the impact of failing to meet repayments.
FCA censures Amigo Loans but waives £73m fine.
The UK's FCA censured subprime lender Amigo Loans for failing to properly assess affordability, but the lender avoided a fine. The FCA decided to waive a £72.9m fine because it would cause "serious financial hardship" to the company and threaten its plan to pay redress to impacted customers.
FCA facing legal challenge over prospectus climate risk disclosures.
The UK's FCA is facing a legal action from an environmental charity. ClientEarth claims the FCA unlawfully approved the prospectus of oil and gas producer Ithaca Energy which failed to adequately outline climate change risks. ClientEarth maintains that the prospectus acknowledged climate change risks too generally to meet the listing requirements.
Ex-bankers face jail sentences over Libya wealth fund fraud.
Three ex-bankers were sentenced in a London court for defrauding a Libyan sovereign wealth fund upwards of £10m. Two of the individuals were co-directors of a company called FM Capital Partners which was responsible for investing £822m of funds for the Libyan Africa Investment Portfolio. Instead of optimising the investments for the client, the two worked with a third person, a Swiss banker, to invest to maximise their own rewards in undisclosed fees. The sentences were imprisonment for seven and a half years, three and a half years and a suspended fifteen-month sentence for the individual that pleaded guilty and attended court. The other two had absconded and warrants have been issued for their arrest.
Woodford fund supervisor Link Fund Solutions in settlement talks with UK FCA.
Almost four years after Neil Woodford's fund business collapsed leaving hundreds of investors facing losses, the FCA is close to agreeing a settlement with Link Fund Solutions (LFS), the UK arm of Australia's Link. It appears that Link will sell LFS to raise money to compensate investors for what could reach £300m.
FCA consulting on asset management regime.
The UK's FCA announced a consultation on how it could improve its regime for regulating the UK's two-thousand six-hundred asset management firms. The consultation was driven by the liquidity crisis that occurred after 2022's mini budget and will look at how to boost competition, encourage innovation and protect investors.
Credit Suisse shares suffer from chair's comments.
Shares in Swiss bank Credit Suisse slipped to an all-time low following reports that Swiss regulator Finma was looking into comments made by the bank's chair. Axel Lehmann said outflows from the bank had steadied in December 2022, a fact that seems to be undermined by details in the bank's full year results.
Sam Bankman-Fried updated indictment adds new charges.
Sam Bankman-Fried, the founder and CEO of collapsed crypto-exchange FTX facing criminal charges has had his indictment updated. Charges have been added including securities fraud and conspiracy to commit bank fraud and Bankman-Fried is said to have established a "series of systems and schemes" to enable him to siphon billions of dollars from customer deposits.
FATF adds to its "grey list" and suspends Russia's membership.
The Financial Action Task Force (FATF) added South Africa and Nigeria to its "grey list" of countries that need to do more to fight financial crime, joining the likes of the UAE, Turkey and Panama. FATF also suspended Russia as a member on the first anniversary of its invasion of Ukraine.
Abu Dhabi agrees $1.8bn settlement over Malaysian 1MDB scandal.
Abu Dhabi agreed a settlement with Malaysia over its role in the 1MDB scandal that saw billions of dollars siphoned out of Malaysia's sovereign fund. Two senior executives in Abu Dhabi, who were working at state companies IPIC and Aabar at the time, have already been convicted and jailed for their role in the fraud. Now IPC and Aabar will pay an initial $800m within seven days of the proceedings concluding and the other $1bn within two years.

Delivered straight to your inbox
Receive updates, exclusive offers, event invitations and free resources straight to your inbox by signing up for our monthly newsletter.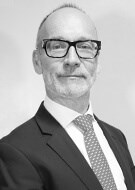 Martin Mitchell
Director of Training Services